Improve profitability through Lean Manufacturing ERP solutions
Do more with less with SYSPRO ERP
In manufacturing, customer demand for high quality at a low cost is an ever-present reality. Price pressure can feel overwhelming, especially when you're facing global competitors. That's why many companies like yours have embraced lean manufacturing as a business model – to help them do more with less.
With Lean Manufacfturing methodology, you focus on creating more value-add for customers with fewer resources. Or put another way, you work to cut out any activities that use resources but don't add value. To get the visibility and control you need to make those choices, and to understand what your customers actually want, you need robust business management software including the right Enterprise Resource Planning (ERP) platform.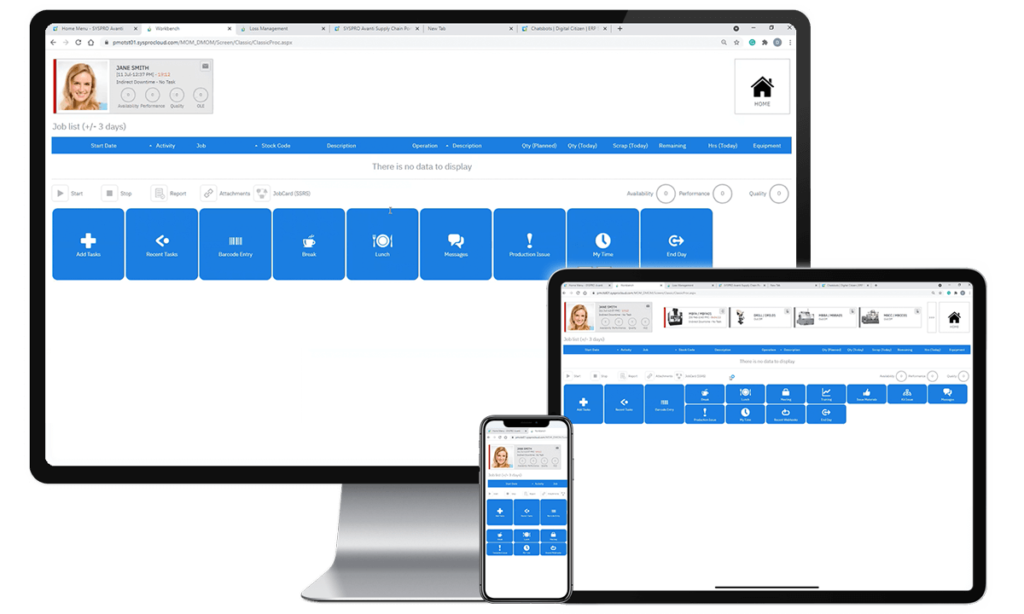 360° visibility across your business operations
SYSPRO ERP
Software enables you to move toward just-in-time (JIT) manufacturing, with tools that help to
reduce manual work and automate business processes.
In addition, SYSPRO helps you align your
supply chain
more closely with customer demand, so you can
reduce inventory
and other costs. With 360-degree visibility of what's happening across your business, SYSPRO ERP empowers you to
identify opportunities to slim down, improving your business health.
5 Lean Manufacturing Principles
Value – identify all of the value-adding functionality in your product (from the customer's point of view, not yours)
The Value Stream – put all of the value adding steps alongside each other and remove the non-value-adding steps
Flow – by shortening the value chain, value begins to flow and gains velocity along the value chain
Pull – get the customer to pull the product, and reduce overproduction, i.e. sell one, make one, and only manufacture to replenish the warehouse
Perfection – start again and relook at the processes
5 ways to use ERP to achieve automated lean manufacturing objectives
Sales and Service Processes
Use Electronic Data Interchange (EDI) and Document Flow Manager to automatically process transactions and other information
Deploy alerts to help you identify and resolve customer issues before they affect loyalty
Streamline accounting and other transaction processes through workflow automation
Product Research and Development
Use Web-based modules to enable online collaboration with customers and suppliers
Integrate with CAD/CAM systems to save you time and cost of double data entry and reduce errors
Track and analyze R&D costs against budgets, by project, so you can identify at a micro level where you might be losing money
Supply Chain and Inventory Processes
Purchase only the materials and labor you need, avoiding waste and maximizing cash flow
Set up stock replenishment rules and real-time alerts to support just-in-time processes
Reduce lead times associated with warehouse transfers, supplier orders and shipments
Use advanced scheduling to manage work in progress and reduce labor costs
Deploy barcoding and serial tracking to improve throughput and streamline shop floor operations
Enforce compliance with regulatory requirements through automation
Streamline Return Merchandise Authorization (RMA) processes and ensure items are fully tracked
Manage recalls with fewer manual steps using lot and ingredient traceability
Identify recurring problems that affect customer value
Business Analytics Reporting
Gain visibility into productivity across the business
Simplify decision-making with visual dashboards
Eliminate manual steps in regulatory and financial reporting
Improve your ability to conduct an accurate Value Stream Analysis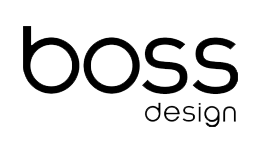 "In the next three to six months, we expect to see working capital savings in between $100,000 to $250,000. We are already saving over 95% of work hours."
— Head of Operations, Boss Group
In summary, re-engineering traditional manufacturing methods through the use of lean concepts can help your business speed order turnaround, streamline deployment of resources, reduce waste, and build customer satisfaction and loyalty. All with an eye toward achieving the lean ideal of "perfection."
But what may be most important – lean operations can mean a significant boost to profitability for your business. Discover how SYSPRO has helped manufacturers like you achieve their lean goals and support global growth.
Keep up to date with trending topics and what the experts are saying about your industry
How to Start the Lean Manufacturing Journey 
Lean is brilliant, but one size does not fit all – the Lean programme must become your lean programme developed for your machines and your workforce.
Lean Manufacturing Implementation and the Change Management Journey
One of the most critical activities in any initiative is that of Change Management which can be described as a collection of approaches to prepare, support and help individuals, teams, and organizations in making organizational change.
Get resources and insights into your industry and how our technology can enable you to disrupt your business and focus on business growth.
The Supply Chain Portal streamlines collaboration between buyers and suppliers and minimizes document handling – reducing potential fraud.
With SYSPRO MOM your manufacturing execution system is fully integrated into your ERP giving you a single platform to monitor and improve your factory's performance from planning, scheduling, publishing, collecting, tracking and analyzing.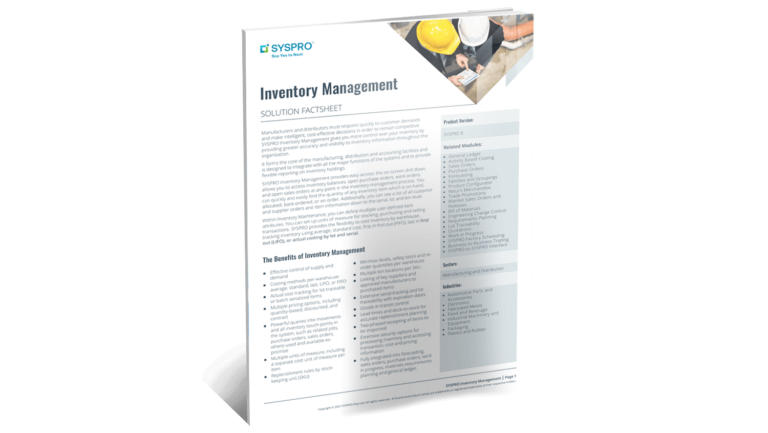 SYSPRO Inventory Management gives you more control over your inventory by providing greater accuracy and visibility to inventory information throughout the organization.
Lets work together to create positive change in your business
Get in touch to find out how SYSPRO can assist you and your business today