The reason executives decide to implement an ERP system is to achieve objectives of improving operations and making more efficient use of information, people and assets. However, implementing ERP software is a complex technical undertaking and has fundamental impacts on people and processes. Therefore, an implementation project has to be planned carefully and many different factors must be taken into consideration for it to succeed.
The impact of an ERP System implementation
An ERP implementation project is a considerable discontinuous change that cuts across many functional and process aspects of a business.
The business processes: that determine how an enterprise works
The people: who do the work and the way they are functionally organized
The systems: that are implemented to automate, consolidate and streamline procedures and data
The role of these elements is important in how an ERP project achieves its goals.
Key factors in an ERP implementation
There are several factors to be aware of to ensure problems don't occur in the ERP implementation.
Business needs, goals and requirements gathering
Before implementing a new ERP solution, it's important to consider what the business needs are, how the ERP will address these needs and fix problems, and what requirements each function will need.
It makes no sense to implement a solution that automates existing processes. Before any change can occur, it is critical to understand the current state of the business. This approach involves gathering key performance metrics, then mapping business processes to identify where improvements will make a significant difference. When the effort is made to analyze current processes, identify problems, determine business needs and goals, and then define a desired future state, the return on investment is more constructive  and the time-to-value is shorter.
Infrastructure on an ERP System
A new ERP system will almost certainly require investment in infrastructure. Documenting what infrastructure changes or upgrades will be needed to support the new software is important.
The advantage of implementing a cloud-based ERP system is that the infrastructure is taken care of by the cloud provider and the ERP vendor. Instead of upfront capital investment in infrastructure required for an on-premise system, a cloud ERP solution will have a monthly usage charge. The onus is then usually on the CIO to monitor and report on the ongoing monthly costs to ensure the project does not go over budget.
Organizational alignment
Because an ERP implementation involves a degree of business transformation, it is important that everyone assigned to the project understands their role, what is required, and why it is important. This includes the objectives of the team that they belong to, who they report to, the activities they need to complete, and how their tasks link to the overall project and business goals.
Executive team engagement
Without the executive team's support, an ERP project will most likely fail. The go-ahead for the project to proceed is not the signal for executives to disengage. In fact, their work is far from done. Executive team members should be closely involved in the decision-making aspects of the project, including being present during discussions about the resources, time, and money assigned to the project.
Business process reengineering
No ERP project will succeed without business process reengineering. In order to achieve reductions in process cost or time, or major improvements in business operations, it is important to identify problems in current workflows. Reengineering the business process and workflows will optimize the capabilities of the new ERP system.
During process reengineering, one trap to avoid are so-called "best practice" processes.
Best practice may work for a particular company in a particular industry at a particular time. What works in one company may not work in another.
New ideas are continually coming up, and current practices can become outdated quickly.
Instead, businesses should focus on:
adapting best practices intelligently to the organization's culture and situation;
defining processes that have the best chance of delivering products and services at the quality, time and cost required;
having experienced people who can think critically, strategically, and creatively about processes.
Managing project scope for ERP System
Scope creep is when the requirements of a project slowly expand over time until the final product takes much longer and is more expensive than planned. ERP projects can easily go off-track if they are not accurately baselined and where requested changes are not first vetted, managed to ensure they are not unnecessary or distracting.
Risk management on an ERP System
A common problem in first-time ERP projects is that the complexity is underestimated. Since complexity creates risk, executives on the ERP project must adopt practices to monitor the project for potential risks. Often, it's not the technology that increases risk, but internal issues relating to people and processes.
Project communication
Without visible  structured  communication among the project members and all stakeholders an ERP project can run into trouble. The improvements that the investment in ERP will make to the company should be communicated throughout the organization — the ERP project is as important as a new plant or a new product line.
Organizational change management
A change management plan can help prioritize communication and feedback so the workforce has the information needed to best use the new system. Change management should also be built into the training programs associated with the project.
The user experience
Lack of attention to the user interface and the experience of using the ERP software can result in poor adoption, resistance to change, and generally reduced productivity on the system. Engaging users on a regular basis during the design and development process ensures that the ERP system is in step with what employees need and will use.
How to know when the implementation is completed
To most IT teams, a project is complete once the software is live. But it is not enough to have the technology in place. Executives need to ensure employees are actively using the software and doing so in ways that help meet business goals.


How much customization is needed for an ERP System
The ability of an ERP solution to allow customizations and modifications should be a major factor in the selection process. However, during the implementation, the amount of customization can create arguments. Customizations that change the look and feel of the software have negligible impact. But writing code to create new functionality carries a high risk and is a long and costly process.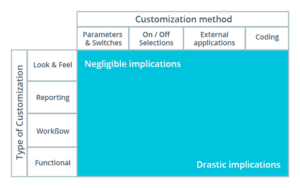 Source: Thinking about ERP
Data Migration
There must be a thorough understanding of what data from legacy systems will be migrated to the new ERP. Data migration can be significantly more complex and costly than planned without this upfront knowledge.
Integration of an ERP System
An ERP system should contain an integration toolkit or pre-built integrations for some common applications. As every company has multiple systems, it is important to know the integration issues for external applications and plan how they will be tackled.
ERP systems are being increasingly viewed as the data and transactional hub for companies, according to IDC. With such a central role in the organization, it is critical that the steps to ensure the success of an ERP implementation are followed and applied.