I recently attended the SYSPRO analyst update to hear about their new developments and continued evolution. SYSPRO has a strong presence in the manufacturing space as an ERP provider with a loyal client base.
SYSPRO prides themselves on their service and working with companies to let them operate their "own way".
They presented survey data based on new ERP users and Millennials that reflected an impressive 76% endorsement of the point that:
"They will increasingly demand, or be drawn to vendors that let them do business their way."
As part of the technology update, one area that SYSPRO devoted significant design effort was on their new Web-Based user interface Avanti – to support digital transformation. They spent considerable time in their design efforts and many focus groups to get exactly the right blend of functionality and ease-of-use in their solution.
The type of feedback they received gave them high marks for getting it right!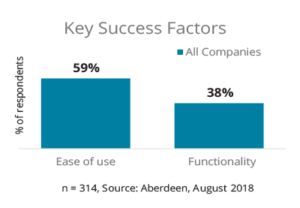 "SYSPRO Avanti is uncomplicated and requires minimum
effort to navigate". Coricraft
"SYSPRO Avanti allows the user to navigate seamlessly
between the various panes. The layout is simple, clean
and uncluttered". CBH
"SYSPRO Avanti offered user-friendly, familiar
experience. It's easy to find what I am looking for and
getting to know the system in very little learning time".
Zemco Group (PTY) LTD
Aberdeen research agrees and supports the focus on ease-of-use, along with functionality as being the top two success factors from a solution perspective on having a successful implementation.